Oral Arguments Scheduled on Imam Jamil Al-Amin's Appeal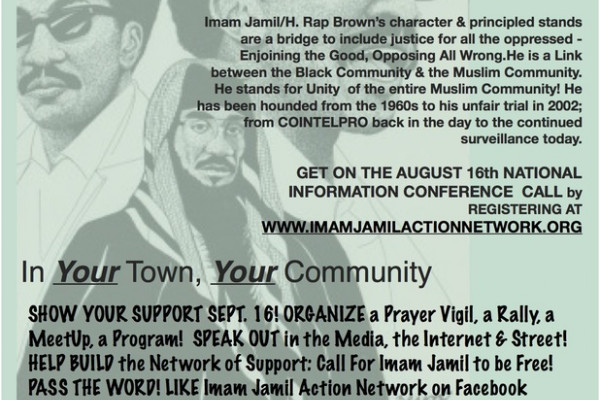 Greetings of Peace, Imam Jamil Action Network (IJAN) has just heard that the 11th Circuit Court of Appeals has called for oral arguments on Imam Jamil's Appeal. They have scheduled it for the week of April 29, 2019.
IMAM JAMIL AL-AMIN (formerly known as H. Rap Brown) December 2018 Status Update:

COURT HEARING APRIL 2019! KEEP FIGHTING the Gag Order!
Imam Jamil Al-Amin (f/k/a H. Rap Brown has been hounded for more than 50 years for his ability to Speak Truth to the wrong, oppression and injustice suffered by humanity, especially the millions of descendants of the African Slave Trade in the US—the economic foundation of this country. Since the false charges in 2000, he has been denied his human & civil right to speak. Imam Jamil's character & principled life is a Light for justice—for All the oppressed: ENJOINING THE GOOD, OPPOSING ALL WRONG. He is a Link between the Black Community & the Muslim Community and the Link of Justice for All Humanity. He stands for Unity of the entire Muslim Community! He, like many other Freedom Fighters from the 1960s, has been hounded ever since—from the US government's COINTELPRO attacks then to their continued languishing in US prisons today. Imam Jamil has spent all his adult life standing for human good and against oppression: From building Unity between street organizations at Peace Summits across the country, to peace in West End Atlanta; Speaking Truth to Power from Alabama, and in the global arena, his life embodies Malcolm X: "I'm for truth, no matter who tells it; I'm for justice, no matter who it's for or against."
SIGN THE PETITION: kundnani.org/jamilalamin/
CALL THE BUREAU OF PRISONS 520.574.7300
Legal

The Legal Campaign to Free Imam Jamil is building a multi-level strategy: within the U.S. court system at the state and federal levels and in the United Nations international system of Courts. Imam Jamil's legal appeals case, at the state level, challenges to Georgia's factual and circumstantial contradictions, withholding of information, manipulations, pressure tactics and outright lies. At the federal level is the challenge to the federal government's trampling of Imam Jamil's First Amendment Rights to speak & write. The 11th Circuit Court of Appeals has scheduled Oral Arguments for April 2019. More fundamental than civil or constitutional rights are HUMAN RIGHTS—rights of all human beings, regardless of who they are & where they live. The FBI has admitted in 44,000 pages, so far, that it has hounded Imam Jamil Al-Amin for more than 50 years—for speaking out against the oppression faced by Black & other people inside the U.S. and elsewhere by the U.S. government. El Hajj Malik Al-Shabazz (Malcolm X) warned that the U.S. must be taken to the World Court. The US is guilty of violating the Human Rights of Imam Jamil, as well as dozens of other political prisoners because they dared to speak and stand for justice and right, against oppression and wrong, as well as the rights of the millions of African descendants of slavery.
Execution by Medical Neglect

While Imam Jamil continues to face and fight several physical health issues, his spirit remains strong. Prison authorities continue to claim medical care, BUT they are only "monitoring" his condition of smoldering myeloma (a form of blood cancer) and treating the symptoms of Sjogren's Syndrome.
TO HELP/FOR MORE INFO:
IMAM JAMIL ACTION NETWORK

www.imamjamilactionnetwork.org

facebook.com/imamjamilactionnetwork

Southern 252-907-4443

North East: 215-738-8807

Mid-West 216-215-0165

West Coast: 929-363-6649

Media Contact: 929-363-6649
WRITE IMAM JAMIL AL-AMIN #99974-555

USP Tucson

P.O. Box 24550

Tucson, AZ 85734
To Send Commissary Payable to him:
Send a MONEY ORDER to:

Federal Bureau of Prisons

Jamil Al-Amin #99974-555

P.O. Box 474701

Des Moines, IA 50947-0001