Albert "Nuh" Washington 1941-2000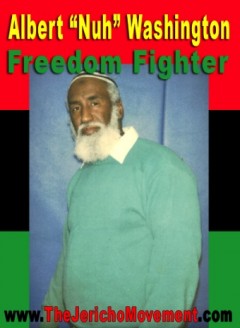 BLACK PANTHER PARTY- BLACK LIBERATION ARMY
A Tribute to Nuh Washington
Revolutionary Worker #1053, May 7, 2000
To the oppressed 

I am the angel of deliverance 

To the oppressor I am the angel of destruction

So who I am depends on who you are
Albert "Nuh" Washington,

"By Way of Introduction"
"Nuh wants to go home, and we cannot stand for comrades to die in these hell holes."
Nancy Jacot-Bell, Oakland, April 22
Albert Washington is 64 years old and has been locked up in U.S. dungeons since 1971. To the people, to the revolutionary movement, he is known simply as Nuh, the Arabic form of the name Noah.
This past December, cancer was found in Nuh's liver. Doctors gave him three to ten months to live. In March he was moved out of Comstock Prison to the prison medical facility at Coxsackie in Upstate New York.
This system is utterly merciless. It has neither forgotten or forgiven the revolutionary stand of Nuh. Even now when he faces death from cancer, they refuse to release him.
In Oakland, April 22, it was clear that the life and struggle of Nuh is remembered among the people too--in a totally different way. That evening 150 people turned out for a moving evening tribute to Nuh Abdul Qayyum (as he calls himself since embracing Islam).
Here, he was honored and celebrated. Here the demand was raised that, at last, this revolutionary fighter must walk free from the system's prisons after 29 years of unjust and brutal confinement--to embrace his comrades and loved ones one last time.
*****
"As a member of the Black Panther Party, I worked to raise the political consciousness of Black people and teach them self-defense. The government-sponsored COINTELPRO created situations that led to the split in the Black Panther Party and forced many of us underground. Underground we became the Black Liberation Army and engaged in active self-defense. In defending the Black community in San Francisco, I was shot and captured along with Jalil Abdul Muntaquin. Later I was charged with killing two New York City police officers with Jalil and Herman Bell. The State has conceded that I have committed no act but that I taught political education classes. For that I have been sentenced to life imprisonment and subjected to the tightest security, not only in the states of California and New York, but in the country as well."
"I tell jokes and educate my fellow prisoners, which is why I am transferred a lot. The Black Panther Party is physically gone but the spirit lives in a lot of us. Just recently a brother asked me for the goals and rules of the Black Panther Party, and a few people wish to be part of it again. After 20+ years as a prisoner, the memory of being with the people still brings a smile to my face and it is something I share with my fellow prisoners: the concept of unity, movement, and love. I am a prisoner of war as well as a political prisoner because of the historical and contemporary acts of war carried out against Blacks/New Afrikan people inside and outside these United States by the government and those who believe in white supremacy."
Nuh Washington, 1992
"Nuh's radiant spirit continues to shine nearly three decades after he was unjustly caged by the state."
Mumia Abu-Jamal, from

Pennsylvania's Death Row
In the early 1970s, after years active in the Black liberation struggle, Nuh was shot and captured together with Anthony Bottom (now Jalil Muntaquin). Along with Herman Bell, they were charged with murdering two cops and became known as the New York 3. Their crime, in the eyes of this system, was their revolutionary politics and their determination to win the liberation of Black people. In secret, resources of the FBI and other authorities were mobilized to railroad these fighters to prison.
The Jericho Amnesty Movement writes, "The first trial ended in a hung jury. During the second trial the judge and prosecution used many illegal tactics to obtain a conviction, including the beating and torture of one witness, bribery and threatening several witnesses with taking away their children.... Information that could exonerate Nuh and his co-defendants has repeatedly been quashed and all appeals to review this information have been denied... This case goes all the way to the Nixon White House under a program of COINTELPRO called NEWKILL. Although the NY3 were tried and convicted in a New York State court for the murder of two New York City police officers, the orchestration of this case was designed in the White House with the help of J. Edgar Hoover's FBI. The NY3 continuously contended that they were being set up and framed, but were not allowed to raise this during trial because they had no evidence.... It wasn't until after the Church Commission hearings on the FBI covert domestic operations were held that the existence of COINTELPRO was confirmed and they found out about the extent of the government's program and actions and their allegations were confirmed. Ballistic evidence that had been under wraps was revealed. Lies told by police officers were revealed...yet the NY3 are still in prison as they have been for the past 26 years (Nuh and Jalil) and 24 years (Herman)."
*****
The Oakland event was titled a "Benefit in honor of a Revolutionary, a Political Prisoner, an Imam." It was sponsored by the Jericho Amnesty Movement, the Malcolm X Grassroots Movement, and Victory Gardens Project. It brought together people from across the country--some folks came from as far as New York--to pay tribute and express their support for Nuh. It featured words from friends, former comrades, and supporters, spoken word performances, and two heart-warming video interviews with Nuh from prison. Other political prisoners, including Mumia Abu-Jamal, Sekou Odinga, Sundiata Acoli, and Marilyn Buck sent statements of solidarity.
Muhjah Shakir, Jericho Western Regional Coordinator, opened the program. Ahmed Obafemi of the New Afrikan Peoples Organization and the Malcolm X Grassroots Movement said Nuh had "never given quarter to the enemy," but continued his work through young brothers in prison. He called on people to fight to get Nuh out of the hands of the enemy.
Rico Pabon of the Prophets of Rage performed a live spoken word piece linking Nuh's struggle and the Puerto Rican independence movement. The poet Ms. Little performed a moving piece about losing her dad to prison at 6 years old and what it meant for her to be part of the struggle to free Mumia Abu-Jamal.
Kamel Jacot-Bell, the son of Herman Bell, and Nancy Jacot-Bell expressed that Nuh and unrepentant fighters like him are "true heroes" for the new generation.
Kali Akuno of Jericho and Malcolm X Grassroots Movement declared, "Long live Panther Spirit of Nuh Washington!"
Long-time liberation fighter Yuri Kochiyama read a statement from political prisoner Marilyn Buck describing Nuh as warm, thoughtful and clear minded. Other speakers included Imam Abdul-Alim Musa of Masjid Al-Islam in Oakland, poet Aya DeLeon, former Black Panther Thomas "Blood" McRary, prison rights activist and former political prisoner Donna Wilmott, and poet and former Black Panther Raul "Curly" Estremera.
In video interviews with Nuh made in prison, he talked of how, when he was 14, he made a pact with a friend to liberate Africa, "which was wild, because we were living here at the time!" He described studying the Red Book of Mao Tsetung as a practical guide to solving problems, the importance of criticism-self-criticism, and dealing with hard times in a principled manner by being open and above-board with each other.
Nuh added: "A revolutionary never dies because his ideas live with his comrades."
*****
energy unleashed

touching those in its path 

energizing a generation 

to mobilize and organize themselves

against

war, poverty and racism 

taking it to the streets.
Albert "Nuh" Washington, "Energy"
*****
For more information on Nuh Washington visit website: prisonactivist.org/pps+pows/nuh-washington