MAGEE, RUCHELL CINQUE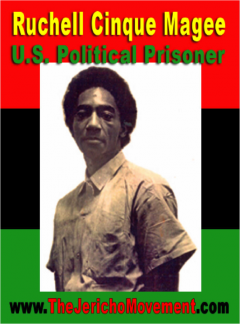 Contact Information
Prison Address
#A92051, #T 115 California Medical Facility
P.O. Box 2000
Vacaville,
,
CA
95696-2000
United States
Birthday: March 17

Capture: August 7, 1970 

IN PRISON 56 YEARS
Ruchell is the longest held political prisoners in the U.S. and perhaps the world, having been locked up since 1963. Politicized in prison, he later participated in the Marin County Courthouse Rebellion (Aug 7, 1970) in the attempted liberation of political prisoner George Jackson by his younger brother, Jonathan Jackson. Ruchell has worked tirelessly as a jailhouse lawyer, working on his own case and helping many other prisoners win their freedom….

http://denverabc.wordpress.com/prisoners-dabc-supports/political-prisoners-database/ruchell-cinque-magee/.