Marilyn Buck 1947-2010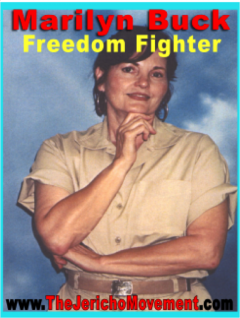 "Our Dear Sister and Comrade Marilyn Buck has joined the ancestors.
"... I survived, carried on, glad to be

like a weed, a wild red poppy,

rooted in life"*
On Tuesday, August 3, 2010, long-time political prisoner and acclaimed poet and translator Marilyn Buck, 62, passed peacefully at her home in Brooklyn, New York.
A few short weeks earlier, on July 15th, Marilyn had been released from the federal Bureau of Prisons medical facility in Carswell, Texas and paroled to New York City. Thanks to the efforts of her long-time friend and lawyer Jill Soffiyah Elijah, her release came several weeks before the date originally set for her release on parole, August 8th.
Marilyn served a total of 33 years of an 80-year prison sentence for politically motivated actions undertaken in support of self-determination and national liberation and in opposition to racial injustice and U.S. imperialism. Throughout her years in prison, Marilyn remained a steadfast supporter of fellow political prisoners and an advocate for the women with whom she was imprisoned.
While incarcerated, Marilyn earned several educational degrees, including a Bachelor of Arts in psychology and Master of Arts degrees in poetics. She published several books of poems including Rescue the Word (Friends of Marilyn Buck, 2001), Wild Poppies, original poetry by and for Marilyn Buck (audio CD, Freedom Archives, 2004), and the highly acclaimed State of Exile, by Cristina Peri Rossi and Marilyn Buck (City Lights, 2008). Her poetry and essays have been printed in a wide variety of journals and books. In recent years she was preparing a new collection of poetry, to be published early next year under the title Inside Shadows.
Marilyn became involved in the civil rights and anti-war movements and joined the Students for a Democratic Society (SDS) during her college years at the University of Texas at Austin and the University of California, Berkeley. In the following years she became an active supporter of the Puerto Rican, Native American and Black liberation struggles in this country. She was a consistent and outspoken advocate of liberation and equality for women.
Near the end of 2009, Marilyn was diagnosed with an aggressive form of cancer. Despite surgery and chemotherapy, treatment came too late to save her life.
Marilyn is survived by three brothers, three sisters-in-law; several cousins, nieces and nephews; Soffiyah Elijah, and other loving friends worldwide including prisoners, political prisoners, prisoners of conscience and political exiles. Her parents, Dr. and Mrs. Louis Buck, both pre-deceased her.
Memorial gatherings will be scheduled in New York City, San Francisco, Texas, and Puerto Rico; details will be posted here. Funds raised for her that had not been dispersed at the time of her death will be used according to her wishes to assist other aging prisoners and advance social justice efforts.
more
Read more about Marilyn here and see a recent profile of her by a long-time activist friend at Austin's Rag Blog. Check out some of her writings online. "

http://www.marilynbuck.com/