Mohamman Koti aka James Johnson 1926-2016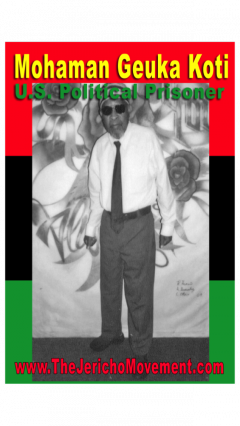 October 11, 1926---May 31, 2016

Affiliation: Black Liberation Movement

Captured: 1978: 25 to Life. Denied parole 5X.

IN PRISON 36 YEARS
"Next year I will be going to the parole board for the 5th time. I have done the time. Why does the parole board keep hitting me and other brothers? I will be 87 years old on Oct 11, 2012. I am the oldest brother here. As a Black man I am very strong, a fighter in the struggle for freedom and justice. Thank you for your help. Long Live the Struggle."

 
Mohaman Geuka Koti
Born October 11, 1926, in Charleston, South Carolina, Mohaman Koti grew up in a very talented and skillful family, which consisted of carpenters, intellectuals, and business owners. With these accomplished people around, one would expect him to have had an easy upbringing, but this was not the case. Because of the ever increasing racial conflicts, injustices and class struggles that were prevalent during his time, Mohaman Koti forfeited the opportunity to enjoy an established life, like other social reformers during his time, by joining a liberation movement that would help the poor and disenfranchised advance socially, politically, and economically. His decision to help struggling people improve the quality of their lives resulted in his initial and current incarceration, and subsequently rendered him a political prisoner after his 1978 arrest; his name appears on the Jericho list of Political Prisoners.
In 1978, the police arrested Mr. Koti after a shooting incident that occurred in Manhattan. The factual circumstances surrounding the incident are not very clear, but what is clear is that during a physical confrontation with the police, where shots were fired, an officer was inadvertently injured. Fearing that police would kill him, he took refuge in a woman's apartment where he arranged his surrender after telephone calls with FBI agents and his lawyer, Susan V. Tipograph.
During court proceedings, he turned down a plea offer, which would have given him a prison sentence of 7 1/2 to 15 years in state prison. Instead, he proceeded to trial and received a sentence of 25 years to life. Currently, Mohaman Koti is 82 years old, and has been in prison for 30 years. He is the oldest person serving time in the New York State prison system.
Medical History
At 82 years of age, and after 30 years in prison, Mr. Koti's health is failing him, and each day his life fades away; he suffers from a variety of physical difficulties and diseases that threaten his existence. He suffers from a disease called Myasthenia gravis, also known as MG. This disease, chronic in nature, causes his immune system to react against his own tissues. Moreover, it renders his voluntary muscles weaker than normal, and causes him to tire more frequently than healthier people his age. Because of Myasthenia gravis, the muscles that control his arms and legs are affected, as are the muscles that regulate his breathing. Other symptoms include double vision, trouble swallowing, drooping head, poor posture, difficulty chewing and problems with talking. In addition, weakness and paralysis tends to worsen when Mohaman Koti exerts himself, while his muscle function tends to improve with rest.
There is no cure for Myasthenia gravis, and 10% of people with the disease die. Having this disease increases Mohaman Koti's potential for fatality because he also suffers from asthma, prostate cancer, diabetes, and heart disease, for which he takes 20 different types of medication to control. He is regularly in the prison hospital for these ailments, and frequently goes to outside hospitals for treatment. In the previous year, he spent five months in the hospital for a stomach virus, and three more months after surgery to remove a hernia; he lost approximately 30 pounds during these hospitalizations.
Despite his old age, his 30 years of incarceration, and his physical ailments and medical complications, Mohaman Koti uses what little strength he has left in his ever-weakening body to keep pushing forward. Despite repeated parole denials and the tremendous pain and suffering each denial inflicts upon him, he continues to meet each day with a smile. In all honesty, he has not allowed the fatal punches of prison to beat him in the ground. However, without family support, due to abandonment and death, the following questions about his life arise: how much more life does he have left in his soul? How much more physical and mental strength does he have left to effectively fight against the crippling conditions of prison? How much longer will he be around?
These questions are more likely to produce negative rather than positive responses, and they are the reasons why we are reaching out to you, asking for your support in obtaining Mohaman Koti's release from prison through medical clemency. Moreover, with the approval of medical clemency, we would like to arrange an assisted living situation for him, where supervision concerns and medical care would be facilitated. Given his age and serious medical conditions, it serves no benefit to society or correctional administrators to keep Mohaman Koti in prison by denying him parole. It is illogical to say that a fragile 82-year-old man would be a threat to anyone in society. Furthermore, having served 30 years on a 25 years to life sentence, along with the services he has given to the poor and the disenfranchised before and during his incarceration, suffice it to say that he has paid his debt to society. Moreover, to keep denying parole because of his political views is a shameful act that breathes new life into the corpse of injustice.
In light of all that has been said throughout this bio, we humbly ask that you support us in obtaining medical clemency and an assisted living situation for Mohaman Koti. With your support, Mr. Koti could live his last years in an environment free of stress, hostility, and neglect.
Mr. Koti will go up before the parole board for the fifth time in April 2009. 
MR. Koti was released from New York State custody (2015) and picked up by the Federal BOP and remanded to Butner Medical Facility in North Carolina to complete a prior sentence, Mr. Koti is now 88 years old.