Paulette Dauteuil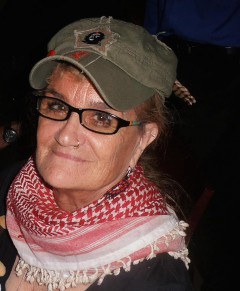 Paulette Dauteuil is the former Co-chair (2010-2012) and National Secretary (2012-2014) of the National Jericho movement. 
I have been involved in revolutionary politics since the mid-60s. I was a member of Venceremos Brigade from Chicago in 1976 and an organizer of Prairie Fire Org. Comm, chapter Los Angeles Ca. 76-79. I became part of the Leonard Peltier Defense Committee in LA and, with Robert Robideau, organized the Los Angeles defense trial of Leonard Peltier after his escape from Lompoc Federal Prison. We put together for 3 months 3 defense houses and raised enough money to feed all the Native People and activists who participated during his trial. 
I was Office Manager & Editor of "In the Spirit of Crazy Horse" at the Leonard Peltier Defense Comm. in Lawrence KS. and Portland, Or; and I recently completed 6 months as Office Manger in the National Office in Fargo, No. Dakota,
 I am currently a member of the Plaid Dragon Collective (1985-). I am the former Co-Chair (2010-2012) and National Secretary (2012-2014, and serve on the Advisory Board of the Jericho Movement for Amnesty for Political Prisoners and POW's.  I have worked in this organization since it's founding in 1998 as a member of the NYC, Albquerque & now the DC chapter; and in participating in international conferences and a member of the Jericho/ABC medical team. Part of my responsibilities is visiting our prisoners and I have been cleared for Federal prisons and NY and Nebraska state prisons.
I am doing lobby work in Washington D.C. for Leonard Peltier's clemency campaign and for treatment of his health issues, and I will be doing the same for Jericho Federal Prisoners.
I have been doing international work for Jericho since 2000 and spoken for my comrades at international conferences: in the Basque Country (2000-First PP conference in the 21st Century.) and in Paris, London, The Netherlands and Beirut, Lebaon, -2015 at the Symposium against the isolation and torture, regarding U.S. political prisoners.
I am a former teacher and a  paralegal and I am committed to help bring about revolutionary change through social, political and cultural work in the peoples struggles for a new and better world for ourselves and furture generations through the world. 
http://fsrn.org/2015/03/qa-jericho-movements-paulette-dauteuil-on-u-s-po...
twitter.com/Jericho4PPs