CALL ME NUH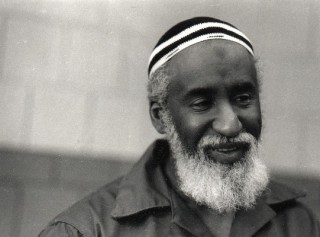 Call Me Nuh

and

The Last Statement of Nuh Washington
A video production
Albert 'Nuh' Washington passed away April 28, 2000, at the Regional Medical Unit at Coxsackie Correctional Facility.
Nuh (the Arabic form of Noah) was a committed member of the Black Panther Party and later, after the notorious FBI-engineered East Coast-West Coast split, worked with the Black Liberation Army (BLA), in defending the lives and dignity of black folk.
Back in the 1970s, Nuh was shot and captured with another Panther, Jalil Muntaqim, and was later charged and convicted of murder along with Jalil and Herman Bell. Evidence has since surfaced strongly suggesting the three men were unjustly convicted in this case.
For over 28 years Nuh (was) held in California and New York gulags, and repeatedly punished for his political ideas. (more)
– Mumia Abu-Jamal, Feb. 2000
Black Panther Party Spirit
The State has conceded that I have committed no act but that I taught political education classes. For that I have been sentenced to life imprisonment and subjected to the tightest security, not only in the states of California and New York, but in the country as well.
I am a political prisoner because I spoke out against racism and oppression.
My family instilled in me values and a sense of pride in myself, family, and people. They were always there. I tell jokes and educate my fellow prisoners, which is why I am transferred a lot. The Black Panther Party is physically gone but the spirit lives in a lot of us.
-- Nuh Washington, 1992
For more information about Nuh Washington and his writings:
All Power To The People, Nuh Washington, a collection of writings by Nuh Washington; available online at Kersplebedeb's website at www.kersplebedeb.com.